Promoting Beekeeping and Business Skills for Sustainable Rural Development
Are you interested in beekeeping? Do you have business expertise?
For this project internship, we are seeking two participants to support an organisation promoting apiculture and business skills training. To participate, you should have a background in business, knowledge of environmental and forest conservation, and information technology (IT) or graphic design skills. If you have good knowledge of English, strong communication skills, and a desire to work in rural communities, read on.

The Uganda National Apiculture Development Organisation (TUNADO) is a non-profit member organisation formed in 2002 to support sustainable national development of Uganda's beekeeping industry. Based in the Ntinda neighbourhood of the capital, Kampala, TUNADO acts as an umbrella organisation to together apiculture stakeholders countrywide. It aims to ease coordination and improve the performance of the industry. TUNADO supports rural beekeeping associations by providing business expertise and skills training in local communities, including for youth who experienced displacement and young mothers in rural areas. In liaison with government bodies, it aims to reduce rural unemployment by promoting and expanding beekeeping business skills among farmers. TUNADO organises an annual National Honey Week, for example, to raise awareness about the importance and value of apiculture to the national economy. It also seeks to establish an information centre that will assist in the research and development of apiculture. TUNADO promotes Ugandan honey and other hive products regionally and internationally and assists in its standardisation.

The project internship will take place in two locations: the north-western town of Arua and the north-eastern town of Kotido. As a GLEN participant, you would work together with staff in TUNADO's office to support local beekeepers and beekeeping associations with business training and skills development. Specifically, you would assist micro- and small beekeeping enterprises with establishing systems for data management and documentation. These efforts should enhance traceability and record keeping. Furthermore, you would support beekeeping groups by establishing bulking centres for collective marketing and improved bargaining.

The internship runs from July 1 to September 30, 2019. Prior training and seminars will be held in English.

The GLEN tandem will be formed by a Czech participant and a German participant.
Language(s): English
Topic / area(s) of interest: Rural Development, Sustainable Economy, Klima- und Umweltschutz
Field(s) of study (Category): Agricultural and Forest Science, Economic Sciences
Vocational field(s)/field(s) of study (Specification): Agribusiness, Business Administration, Management, Marketing, Entrepreneurship, Environmental Studies
Period of the internship: 3 months between July 1st and September 30th 2019
Country: Uganda
Number of Participants: 2
Proposed by: The Uganda National Apiculture Development Organisation (TUNADO)
Number of the internship (to be filled in later on): 1128
Project title: Beekeeping and Business Training
Classification of the internship in the development fields (Numbers): 3, 7, 16

ZAUJALA TĚ TATO STÁŽ? JSI MOTIVOVANÝ/Á K ÚČASTI NA CELÉM VZDĚLÁVACÍM CYKLU? PŘEČTI SI, JAK SE PŘIHLÁSIT!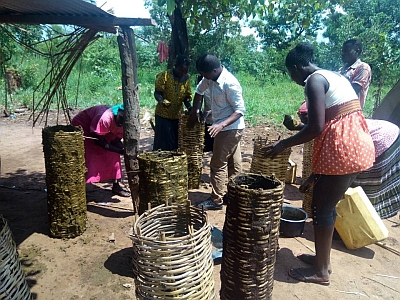 Trainees in Mid-Northern Uganda making beehives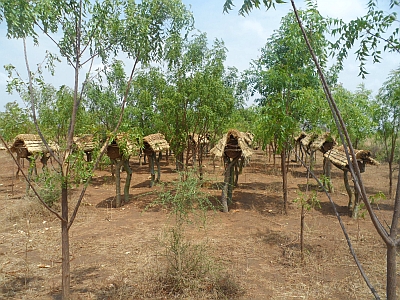 An apiary established by trainees in North East Uganda
Source: TUNADO