Empowering Internally Displaced Youth
Do you have experience working with children and youth? Are you interested in improving the living conditions of internally displaced people?

For this internship, you would support an organisation's youth development and community outreach programmes. To participate, you should have working experience in formal or informal education contexts or with non-governmental organisations. You should also have experience motivating and empowering children and youth. Experience in planning community events, organisational skills, and knowledge of Russian and/or Georgian languages would be a plus. Your English skills must be good. If you also are comfortable giving presentations and you enjoy working as part of a team, this project internship may be for you.

The Koda Community Education Centre (Koda CEC) is a non-profit organisation that operates as an informal education centre. It was established in 2010 to support the social and economic integration of internally displaced persons now living in the Kvemo Kartli Region of south-eastern Georgia. After the 2008 Russian-Georgian War, about 3,000 people from South Ossetia and Abkhazia settled in the village of Koda, where Koda CEC is based, approximately 25 kilometres from the Georgian capital, Tbilisi. Koda CEC focuses on vocational training and personal development programmes to help reduce unemployment and promot civic activity in the community. The organisation runs workshops and programmes, including English and computer classes, business training, knitting, and furniture making courses, among many others. Koda CEC also advocates for the rights and interests of internally displaced people.

As a GLEN participant, you would work with up to five of Koda CEC's employees, as well as with children and youth in the Kids/Youth Club Department. You would contribute to personal development training for children and youth and initiate a project on civil engagement in the community. You would also participate in activities such as crafting, playing games, and dancing. You would support youth club workshops on topics such as globalisation and Sustainable Development Goals (SDGs). Furthermore, you would co-organise community activities and events, such as festivals, treasure hunts, garbage collection, and talent shows. Koda CEC particularly encourages participants' new ideas and initiatives. Additionally, you would assist the centre with everyday administrative tasks.

The internship is scheduled, in consultation with the partner organisation, for three months between September and December 2019. Prior training and seminars will be held in English.

The GLEN team will consist of a Czech participant and a German participant.
Language(s): English
Other language(s): Russian, Georgian
Topic / area(s) of interest: Education, Social Participation, Children and Youth, Migration
Field(s) of study (Category): Social Sciences, Teaching, Pedagogy and Education
Vocational field(s)/field(s) of study (Specification): Youth work, Migration Studies
Period of the internship: 3 months between September and December 2019
Country: Georgia
Number of Participants: 2
Proposed by: Koda Community Education Center (Koda CEC)
Number of the internship: 1106
Project title: Empowering Internally Displaced Youth
Classification of the internship in the development fields (Numbers): 1, 6, 12, 15

Zaujala tě tato stáž? Jsi motivovaná/ý k účasti na celém vzdělávacím cyklu? Přečti si, jak se přihlásit.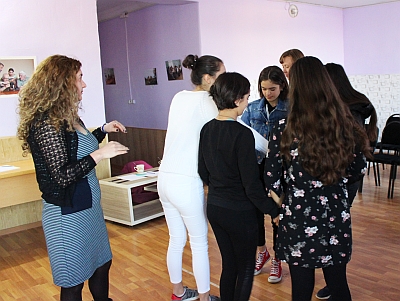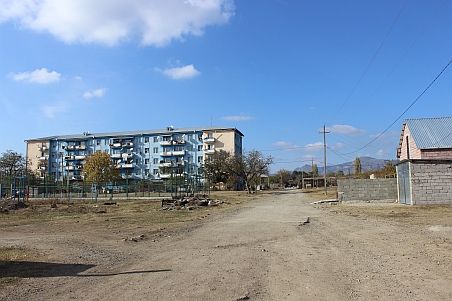 Source: Kinga Lendeczki, 2018