One last party with my friends, one last family dinner, Duolingo downloaded, first levels nailed, basic knowledge of the Czech language acquired, 20 boxers packed, my backpack filled with as much chocolate as it can physically contain… I kissed my dog, pet my mom, took a picture in front of the train station with two huge luggages and one last picture at the airport to remind me of Belgium. And there I was, fully ready to leave Brussels to go on an year adventure to Prague, as an ESC volunteer.
Prague, here I come!
One quick flight later, I found myself alone, in Prague and packed like a donkey. I hopped on the first metro there was and headed to the office. On the way to INEXs' building, I noticed a big orange sign with the word "Belgická" written on it. I immediately thought that my colleagues were really afraid that I would get lost in Prague. So to be sure that I'd reach my destination, I double checked Google maps… There I found out that "Belgická" is just a street that is randomly two streets away from my workplace. How funny can life be?!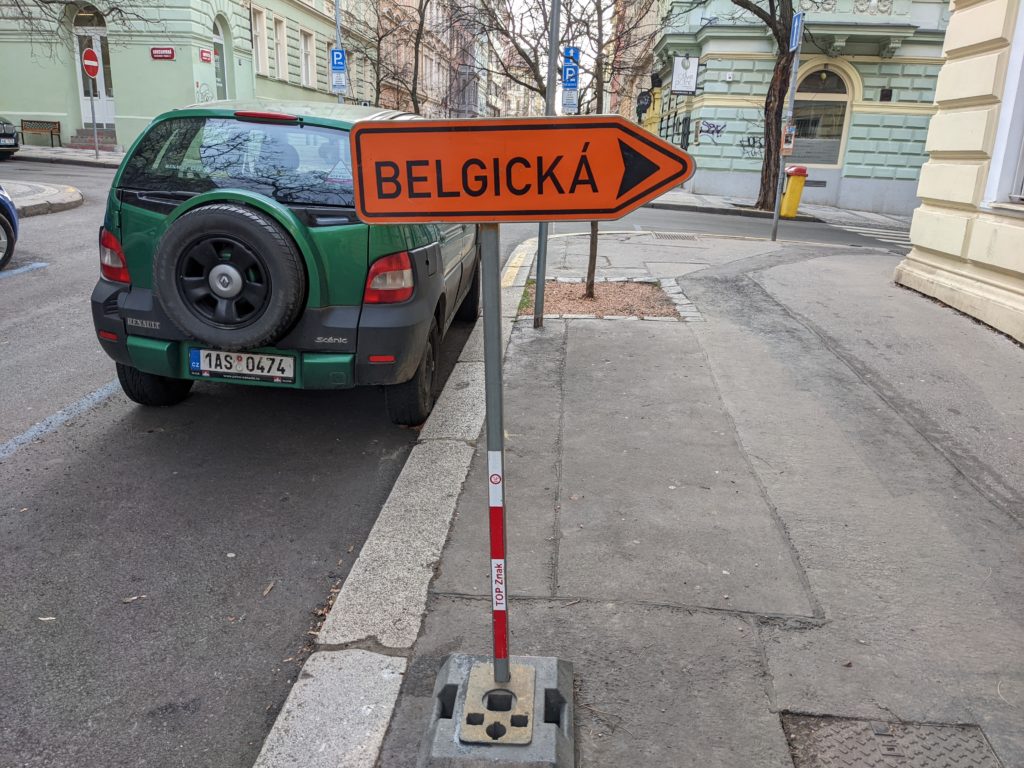 After this little and quite funny confusion, I finally reached my final destination. There I met with my ESC predecessor, Jule, so she could give me a tour of the place and hand me a key to my new flat. After that, I could serenely go to my new place.

I figured that I could try a different type of public transport and hopped on a bus. After I got off, I walked for a bit, and suddenly found out that I'm lost. I thought to myself "Oh, now I wish that there actually was a sign for me this time." But there was none…so I started looking around me, and I figured out that since there are no houses near, but a lot of green areas and a crazy amount of dogs walking with their humans, I ended up in a dog park… not exactly what I wanted. To melt into the crowd, I started to pet my luggage and to give it orders which, of course, were not respected, because it is an inanimate object… Shameful. After that, I was ready to go back to the bus stop and give the mission of finding my flat another try. So I took another bus, then walked for about ten minutes (but this time in the right direction!) and I finally managed to find the flat and even succeeded in opening the main house door. But there was this other problem: I was now facing 4 closed doors and didn't have any idea about which were the ones from my flat
My first czech sentence and friends 🙂
So I tried to open the first ones… and it worked! After entering the flat, I stumbled upon a guy sitting in a gaming chair, with gaming headphones on and a clear sign of dedication on his face. And there you go: you just met my flatmate Michal. Not at ease with my discovery I tried to close the door and excused myself. But unfortunately, my intrusion made him die in his video game, thus he hung up on his friends, and came into the hall to meet me and we got along! Michal then helped me to settle in, and took me to the grocery stores.

The first thing that I put in my cart was a pack of beers. Michal then taught me my first full Czech sentence: "piva není nikdy dost" which means that one never has enough beer. I think that Duolingo intentionally forgot to teach me this one. Later that day I met my second flatmate, Petr, a young and friendly architect. I found out that I would have a 3rd flatmate, but he was away for two weeks at the time of my arrival.

Anyway, we decided to spend the evening together, in the centre of Prague, to get to know each other. Michal told me that we would eat in a historic restaurant. Which I was really looking forward to, because I never tried the traditional Czech cuisine before. When we arrived in front of the venue, I took a look at it and thought to myself, that I have already seen this giant golden "M" somewhere before. And I was right, because the place was a McDonald's, so I pointed that out to the boys. Michal started laughing and he explained to me that this is the first McDonald's restaurant that ever opened in Czechia and that therefore it is an historic restaurant. Well… I was hungry after this long day full of travelling, so we ordered a BigMac and then headed to a local pub.

There we exchanged some stories and after some time it was time for the second round of beers. I wanted to see if I'll be able to place the order, thanks to my knowledge from Duolingo. And I have to say that I was pretty surprised with my Czech language skills. Indeed, here in Czechia, when the waiter sees that you are almost done with your beer, he comes to your table and automatically asks if you want another one, and you just have to simply nod to get a refill! How convenient, right?! Petr later explained to me that the Czechs probably have this reputation of beer lovers, because unlike other countries: when they are at a pub, they don't have to ask for another beer, they have to ask for the waiter to stop giving it to them. Which, in his opinion, is way harder.

After that we went back to the flat and I gave my new flatmates some chocolate brought from Belgium. According to my Belgian standards, If I drink beer with people, which is followed by eating chocolate with them, we are officially friends. I could then end this crazy day by confidentiality saying that I have two friends in Czechia. Yay!

Be reassured, I'm not going to go this deep for every one of my 30 days in this country.
INEX, trainings and "Kolecko" time
Since I arrived on a Wednesday, I still had to go to the office on Thursday and Friday. There I met with my coordinator Nikol, who introduced me to INEX as a whole but most importantly, who gave me "The Bible" which is a folder with all the key information that I had to get familiar with and that is still of great use till this day. After those two days of explanations and overviews I was ready to take part in a training which would allow me to better understand my job, give me tips and tricks on how to do my work efficiently as well as insights to Czechia.

Monday quickly arrived and so did the time for me to train myself to become the best incoming placement officer that Czechia has ever had (still working on that). The first training was called "Placement officer training" and was organised by one of our partner organisations SCI Switzerland. I was determined to go to Switzerland, and was wondering if it is really as beautiful as it is in the pictures. To verify this, I turned on my computer and 5 minutes later, I was in virtual Switzerland. Indeed the training went online because of the pandemic. Nevertheless, some of the participants had really nice Zoom backgrounds, the trainers even took some pictures of the group. Fortunately for them they didn't have to try hard to have everyone in the picture since they just pressed "CTRL + Maj + S" and the trick was done.

Virtual Switzerland was still a good opportunity to meet volunteers from all over Europe that were doing something similar to my job. In addition, it is always good to see the face of the person that will place their volunteers in Czechia in any other place than just in an email signature. Also, one fun fact about this training: one day after it was over, Switzerland eased all their Covid restrictions, but "c'est la vie" I guess?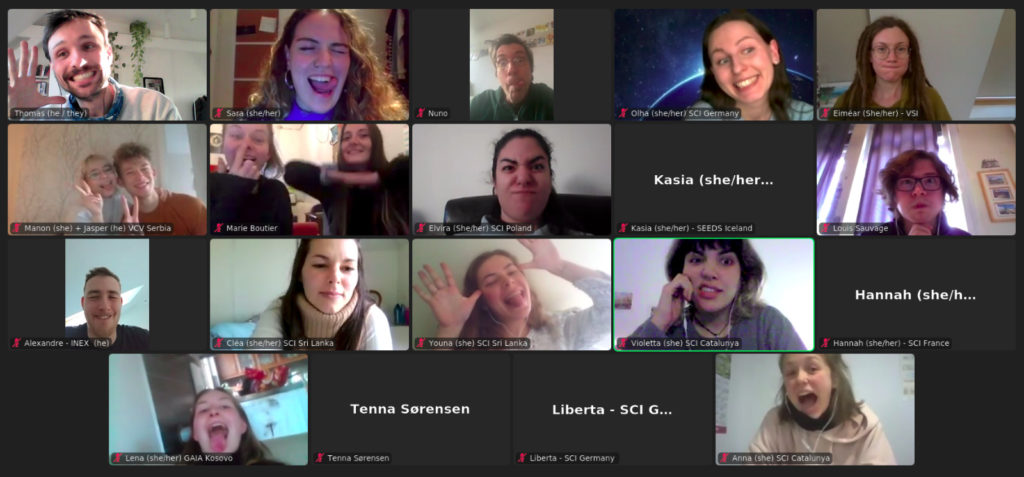 Following my trip to virtual Switzerland, I was now on my way to board virtual Czechia for my second training. But in the meantime I met my mentor, Francesco, who is a really chill dude, who used to be an ESC volunteer himself! For a couple of hours, he transformed into a tour guide and took me on a tour of the whole city. I was surprised by the amount of knowledge he had about Prague. I listened carefully – thinking that maybe one day, I could also become a tour guide for someone else. After this walking tour, I now had 3 czech friends. Even though this time it wasn't sealed by beer and chocolate. Hope that still counts!

One day, following the meet up with my mentor, I was in virtual Czechia and in real Czechia at the same time. This time the training was organised by the Czech National Agency for international education and research and it was called the "On arrival training" which is part of the official ESC program. There I met, once again, volunteers from all over Europe, but this time they were all located in the same country as me!

Most of the volunteers that I met there were actually having their projects in some rather unknown location and all over the country. I then thought that meeting them in the future and having a look at their projects will actually be the perfect way to explore the Czech Republic in depth. And at the time that I'm writing these lines, I've already been to Hradec Kralove, where we are going to be meeting for the second time soon and in two days we are going to the town of Nachod.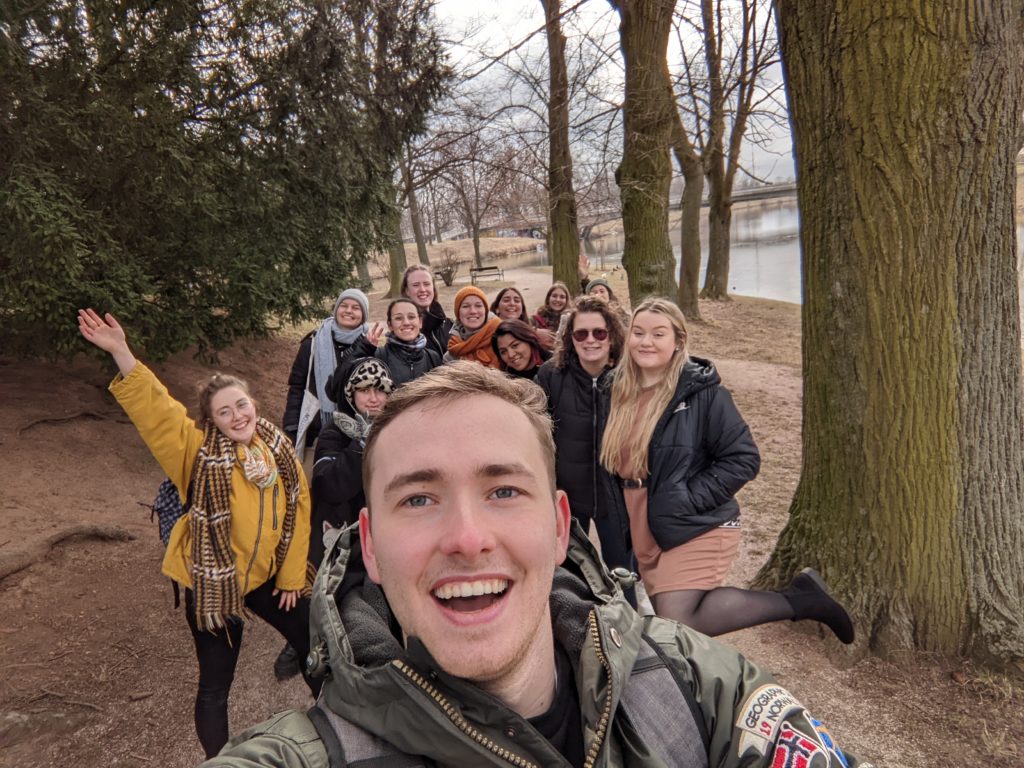 Once those two training sessions were over, there were still some days remaining before the 30 days milestone. In those days, I went back to the office for the third time and started to put into practice some of the knowledge I acquired. I also started persuading my "kolecko", which consists of asking everyone in the team "Who are you? And what is your job here?". I think my colleagues can testify that I had fun doing that and that no one managed to escape from me and my questions.
Pfiou, 1 month anniversary!
One day, a welcome celebration was organised for me during lunch break, I was filing in some Workcamp description and asking my colleagues to do the Kolecko, when I took a furtive look at the date, that was displayed on the right bottom corner of my computer screen and I realised, that 1 month already went by, from the moment I first arrived here.

Pfiou, 1 month already! I still feel like yesterday was my first day in the country. So to have an early reflection on this adventure, I can say that so far it has been rich in meetings, knowledge and exchanges and that my ability to interact with strangers skyrocketed.

Also, since I feel like there is still not much to reflect upon, maybe I should say a little bit more about my expectations for those 11 remaining months. Well, there is nothing crazy about them. I just wish to keep meeting fellow volunteers all over the country and discover their projects. I also wish to feel confident and ready enough to deal with all the incoming emails that I will be receiving during the hot period. And last but not least, I expect my czech language skills to improve. I'm currently working on it. But to make a confession, the whole language is still a big question mark to me. Nevertheless, I believe that with the right amount of dedication, I can achieve this goal! And who knows, maybe one day, I'll be able to order a second round of beer without nodding my head.
Warm regards from Prague 🙂