This weekend workcamp will take place in a small Moravian village of Tvarozna Lhota, situated in the White Carpathian Mountains in cooperation with the local NGO "INEX-SDA Bile Karpaty". This branch of INEX is active in sustainable rural development, environmental education and permaculture projects. In Tvarozna Lhota, they run a museum of "oskeruse" (a local unique fruit) and an open-air leisure and educational centre Cottage Travicna. The aim of this workcamp is to get the site ready for a traditional event celebrating the oskeruse trees and fruits called "Oskorušobraní".
DATES: 20. – 22. 9. 2019
In order to get the place ready for the festival, you need to arrive in Tvarozna Lhota on Friday 20th latest by 1 p.m. Departure is scheduled for Sunday depending on the group discussion.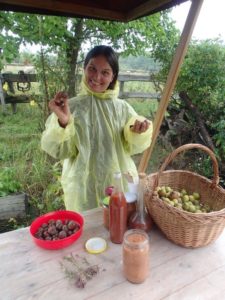 WHAT CAN YOU EXPECT?
You will prepare the site ready for the event (Friday and Saturday) and clean up afterwards. You will cut and rake grass, pick up branches, install wooden poles. You will also help with transportation of material and installing and exhibition.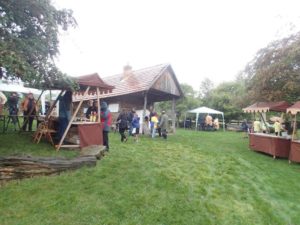 You will organize and take part in the traditional event called "Oskorušobraní" which celebrates the unique local tree. You will be able to get to know different kinds of local food and products (including traditional oskeruse spirits), and learn more about local products, organic farming, herding sheep, the history and natural potential of the region. On Sunday, you can go on a trip.
ACCOMMODATION AND FOOD
You will stay in a big tent in the open-air centre. Please bring your own sleeping bags and camping mats. You will prepare your own meals together as a group.
CONDITIONS OF PARTICIPATION
18+ years old,
active participation in festival preparations,
participation fee of 200 CZK and covering your travel costs,
food and third-party liability will be provided by INEX-SDA.
WOULD YOU LIKE TO PARTICIPATE? READ THE WHOLE DESCRIPTION OF THE PROJECT AND APPLY!
DO YOU HAVE SOME QUESTIONS? Contact us at projekty.cr@inexsda.cz.